Your Alumni & Development Officer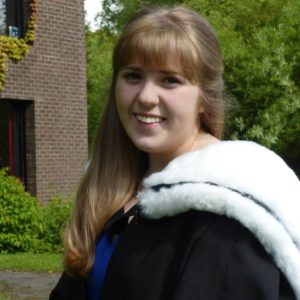 Hannah Bostock
Office on F ground
It is an absolute pleasure to introduce myself to you as the Alumni and Development officer of Trevelyan College. Having been a student at the college studying my undergraduate degree in Theology, I have been involved in many aspects of college life, from rowing, to the musical, to the role of female welfare officer. I remain passionate about the fantastic opportunities available to us, here at Trevelyan.
Trevs now has more than 7000 alumni spread across all continents and, as well as being keen to keep in touch with you, we'd like to help you keep in touch with each other.
This part of the College website tells you about:
Our Alumni Association, The Trevelyan Society, including our annual publication, Hippocampus, Trevelyan Society Scholarships and how to join the Society if you are not already a member.
The Trevelyan Trust , which raises funds to support College. Find out about awards made by the Trust, current fund raising initiatives and how to make a donation.
Reunions and Events organised in College and elsewhere.
Trevs Reunited see how we can help you get back in touch with Trevs friends.
How to Support Trevelyan, whether it is using your time, expertise or, if you prefer, a donation towards a general or specific need.
How to Update your details – you can update your details to ensure you receive important information, includingHippocampus and Newswire, the Durham University Alumni digest that is sent via email every month.
How to buy Trevs Merchandise, which can be obtained using this form.
Social Media
Trevelyan College Alumni have a dedicated Facebook page. Join and 'Like' us atwww.facebook.com/TrevelyanCollegeAlumni. We'll be using the page to share news, events and photos and to help keep our alumni in contact with each other and College. We also have a Twitter page, so please also follow us@trevsalumni or tweet us using #trevsalumni.
We are also on Linkedln, the professional networking site, as a subgroup of 'Durham University Alumni'. There are over 14,000 Durham Alumni on Linkedln, and we'll be using the site to promote networking among our own alumni and to foster discussion on events and careers. To join us on LinkedIn, please join the 'Durham University Alumni' group then search for the 'Trevelyan College' subgroup.
Contact Us
Email: [email protected]
Telephone: 0191 3347016
By Post: Alumni & Development Officer, Trevelyan College, Elvet Hill Road, Durham DH1 3LN
Careers
Looking into your future career can seem like a daunting task, particularly if you aren't sure what you want to do after university."
You are not on your own! At Trevs there are people you can talk to, and there are resources throughout the university… "
Durham Careers Centre
Responsible for the 'Careers News' emails and based in the Palatine Centre (next to the Bill Bryson Library), you can book an appointment with a careers advisor and find out about careers talks from external companies.
Find out more here